"Once
you've started, it's hard to resist the temptation to bake more!" This statement is so true to describe my recent mood now ^^
My recent baking project -
Almond and Blueberry Jam Drops
which adopted and modified from "The Cookie Collection" by
Linda Doeser
. Let's check out the recipe and my work ^^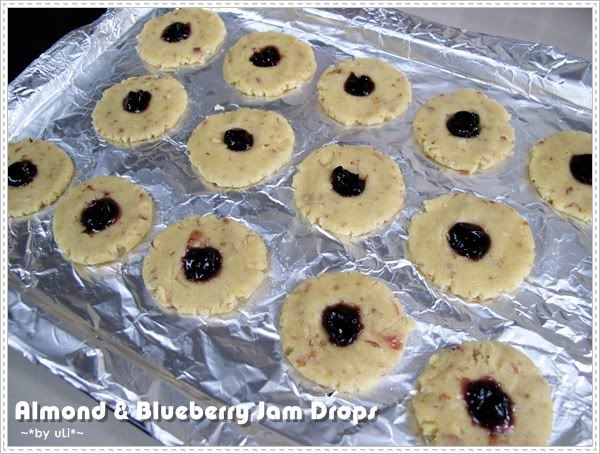 Ingredients:
[Makes about 30]
* 225g butter, softened
* 140g caster sugar
* 1 egg yolk, lightly beaten
* 280g plain flour
* 55g almonds, toasted and chopped
* 4 tbsp blueberry jam
* salt
Steps:
1. Preheat the oven to 190 degree C'. Line 2 baking sheets with baking parchment.
2. Put the butter and sugar into a bowl and mix well with a wooden spoon, then beat in the egg yolk. Sift together the flour and and a pinch of salt into the mixture, add the almonds and stir until thoroughly combined.
3. Scoop out tablespoons of the mixture and shape into balls with your hands, then put them on the prepared baking sheets, spaced well apart. Use the dampened handle of a wooden spoon to make a hollow in the center of each cookie and fill in the hollows with blueberry jam.
4. Bake for 15-18 minutes, until golden brown. Leave to cool on the baking sheets for 5-10 minutes, then using a palette knife, carefully transfer the cookies to wire racks to cool completely.
So far, this is the best cookies that I've made. It tasted so soft and yummy ^^ Love it~ By the way, hubby just put in a request to bake the egg tart for him, looks like I'm gonna research a bit and prepare the ingredients =) Will share with you guys soon! Ciao~